Streaming Services for Churches
Never has there been a greater need to keep people safe, both physically and spiritually. Covid 19 has left no country, industry or individual unaffected.
Just when the church needed to be able to reach those in need, attending church services was forbidden and many clergy were left wondering how they could continue gods work.
In this hour of need technology provided some answers and churches took to broadcasting services using a variety of solutions and platforms.
Few if any of these platforms are ideal for church services and so we created Seccom Church Services.
Features at a Glance
Live streaming and recorded content
Simple to set up and control
Secure and reliable
Web pages and themes designed to blend in and work with your existing website
Adaptable and flexible working in harmony with your existing technology
Low cost of entry
Service Elements (what you need)
Wi-Fi Camera with power and strong Wi-Fi signal (can be cabled)
Inbuilt, external microphone or connection to existing PA system
Internet connection via broadband with minimum 2mbs upload speed (more is better
PC or laptop from which to publish your live stream
Any device with a browser to edit your service details and start and stop streaming and recording
Streaming platform – we provide
Streaming Platform Features
Branded or white labelled web pages accessible via a link from your own website taking the viewer to a page where they can see a calendar of events
Upcoming Live Services – these are the ones which are going to be streamed
View Recorded Services – any services previously recorded
Secure login to the admin portal to administer your account
Add live services for today or future dates
View and amend recorded services, or remove them if desired
Turn live stream on and off Decide which services you wish to record
Upload service sheets, viewable for each service if required – coming soon
Search facility – coming soon
One of our Churches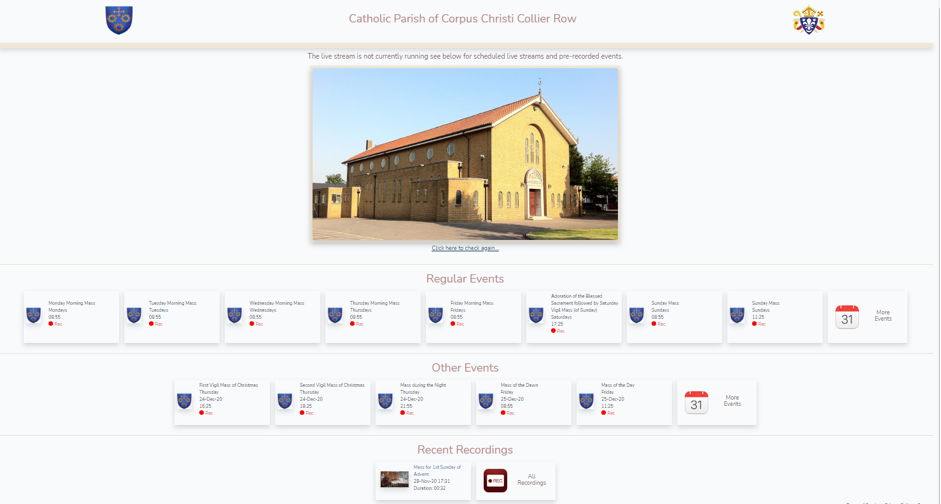 Easily select live services to be streamed or choose a recording to view
Web pages designed to look and feel like your own church or diocese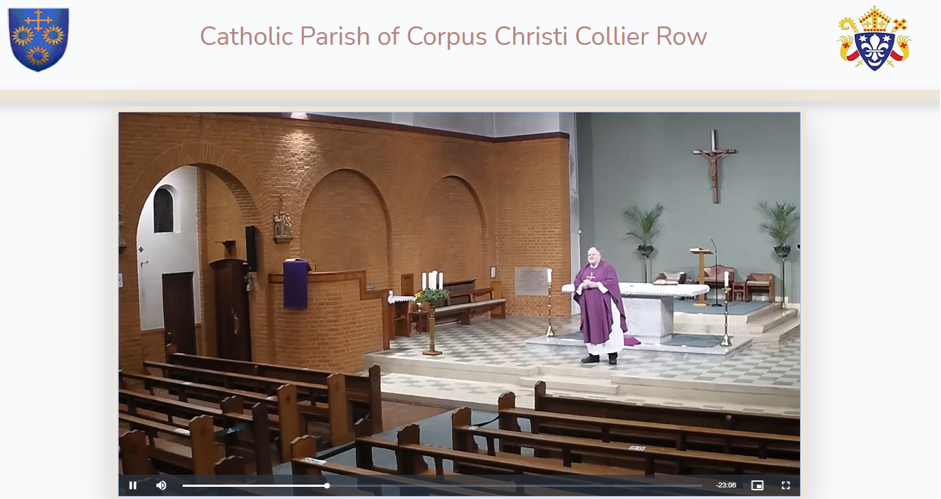 Live streamed services can be viewed when 'on-air'
Any live stream can be recorded
View on any device

Check out a service from one of our churches.
Follow the link and choose Recent Recordings, they may even have a live event going on.
https://stream.seccomgroup.com/channel/collier-row
Prices
There are typically 3 cost elements to the service:
Setup and installation – some of that goes to us to get you set up, some of that is for any equipment you need which we supply at cost – or you can supply as long as it meets our minimum requirements.
Monthly fee – this covers your subscription to the streaming platform and pays for hosting costs and our support and maintenance.
Your costs – you will need a CCLI Streaming License- around you will also need to have a PRS LOML license which we buy and bill you for, electrical work, broadband costs – you would need these for any service you wished to use.


What you get
We project manage the whole setup from your initial enquiry to helping you through your first event
We will perform an on-site survey to make sure we get all your requirements; we will let you know what equipment you will need to make everything work and whether you need to buy any
We will buy and test any equipment you need to get the service live
We then come back and fit everything and provide a little training on how to use it


Do I need anything else?
You don't NEED anything else But you can add:
Online donations including gift aid
Contactless donations – including gift aid
More cameras – so you can stream different views
Gallery
Installations are sympathetic to the environment. For example, we can provide camera brackets in keeping with your place of worship. Neatly and inconspicuously installed.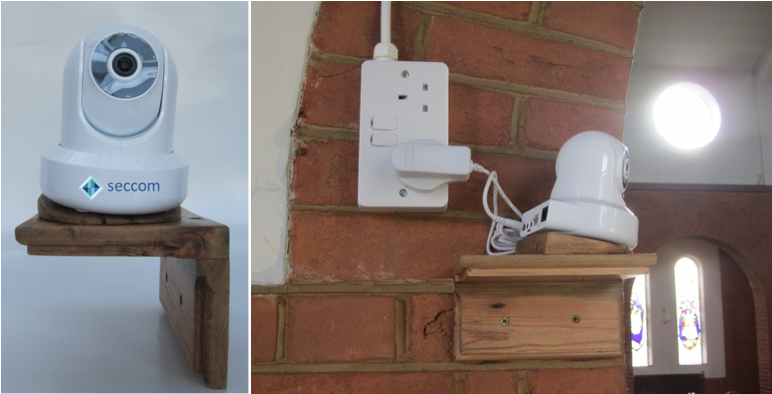 ---
Contact Us
To find out more about us or our services please email us at info@seccomgroup.com or send us a message using the form below.